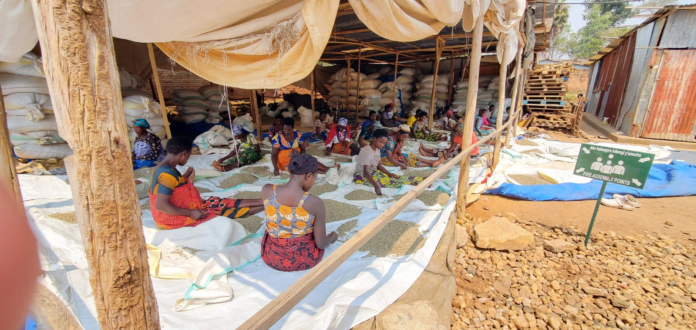 The Agri-Business Capital Fund announces the investment of EUR€800,000 into JKCC General Supplies ("JKCC"), a Ugandan based coffee trader.
JKCC commenced its operations in 2017 and specialises in sourcing high-quality coffee beans directly from more than 3,700 smallholder farmers across 16 districts in Uganda. These smallholder farmers are formally registered with the Consortium of Central and Western Farmers Association (COCEWEFA), which has a Memorandum of Understanding with JKCC. This arrangement allows the farmers to sell all their produce to JKCC, which, in turn, distributes the products, particularly ground coffee, in plastic jars to the local market, including shops, and restaurants, primarily serving tourists, hotels, and local enterprises.
This direct sourcing arrangement cuts out often exploitative "middlemen", and in so doing gives farmers greater returns and helps the farmers develop and embed more sustainable practices into their coffee bean farming methods which produce larger higher quality yields.
In 2020, JKCC secured its coffee export license and initiated coffee processing. Since then, JKCC has recorded a significant improvement in sales volumes, driven by increased international demand. JKCC now exports around 80 per cent of its produce and also produces roast and ground coffee on a small scale under the brand name JK Coffee Roasters. The upward trajectory of JKCC's growth is expected to continue in the short-to-medium term.
JKCC General Supplies is currently in the process of receiving fairtrade certification for 1,687 farmers for the first time by the end of 2023.
The ABC Fund is a blended-finance impact fund which provides catalytic financing to underserved yet profitable segments of agribusiness value chains in developing countries. The ABC Fund deploys investments in farmer organisations, rural SMEs and financial institutions that have potential for high growth and can drive job creation and social development for their communities and countries but lack the capital they need to grow their businesses.
The investment into JKCC General Supplies follows two repeat investments from the ABC Fund. An investment of EUR€2 million has been made into UNACREP, a microfinance institution in Benin, West Africa, which provides short- and long-term loans and microcredits to its members, collects deposits and savings from its members and clients and trains and builds capacity of its members. Also, a further EUR€4 million has been invested into Anatrans, a cashew nut processor based in Burkina Faso.
David Grimaud, CEO, Bamboo Capital Partners, commented: "As the CEO of Bamboo Capital Partners, I am proud the ABC Fund has financed 28 organisations supporting nearly 600,000 smallholder farmers since 2019. It is great to see the ABC Fund once again fulfilling its mission to invest in farmer supporting organisations and rural SMEs that have the potential to grow and create jobs, by investing in JKCC General Supplies. JKCC provides an essential service for coffee farmers, empowering them to secure a higher income for their produce, improving their livelihoods. This investment of the ABC Fund in JKCC also follows on from two repeat investments – a EUR€ 2 million investment in UNACREP, a microfinance institution in Benin, and a EUR€4 million investment in Anatrans, a cashew nut processor based in Burkina Faso."

Jerry Parkes, CEO, Injaro Investments Limited, commented: "We're thrilled to invest in the growth of JKCC, a promising SME in Uganda's coffee sector, and to continue the ABC Fund's support for Anatrans through another crop cycle. These investments enable local enterprises to upgrade their operations, promote sustainability, and drive economic development. We remain unwavering in our commitment to elevate agri-SMEs and the communities they serve."
This Article was originally published by: Farmers Review Africa