Delivering sustainable food systems encompasses economic, livelihood and social issues and to get the system right, we must change what we eat, how we produce our food and how money flows through the system. Some changes will need to be small and incremental; others will require gigantic and disruptive shifts. Bearing this in mind, it will be paramount to understand the mindset not only of concessional funders, but also that of private sector and commercial financiers, to ensure we feature in our food-related conversations also the specific interests of such potential funders in planet and profit.
Blended finance is the financial equivalent of spinach, something that seems worthy, but is boring (Financial Times, 14 April 2023)
Blended finance was back on the agenda at the 2023 IMF and World Bank Spring Meeting. Blended finance is great on paper but difficult to design and execute.  For one, it takes a long time to align interests between funders. More importantly, it would be beneficial if development finance institutions focused more on expanding the capacity of operational and junior positions. But we also acknowledge why the World Bank and other multilateral development banks prefer to be senior lenders. They are, after all, banks. Any indication of risky lending can compromise their AAA credit rating, with which they can raise cheaper capital from financial markets.
What is blended/innovative finance?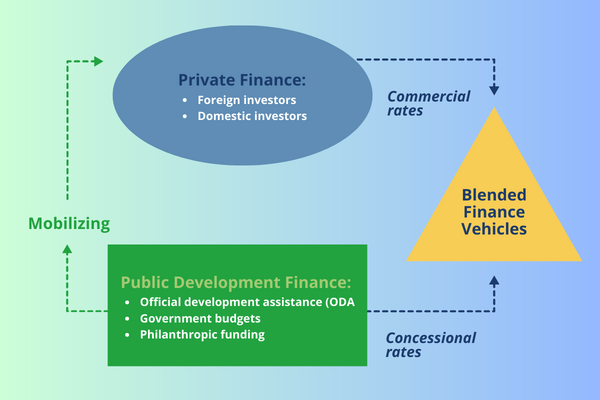 Understanding the consultation
As global issues intensify, and are compounded by economic uncertainties, food security remains a critical issue.  Donors, philanthropic organisations, and public funds are challenged to speed up the transition to sustainable global food systems and achieve the SDGs. This is the goal for the consultation, with the main question of how to make funding more catalytic through innovative financing for food systems. The project begins by delving into the emerging trends gleaned from the Overseas Development Assistance (ODA) Tracker that the Shamba Centre is building with the Food and Agriculture Organisation (FAO) and the International Food Policy Research Institute (IFPRI). The Food Systems Solutions (FSS) Coalition, created to address the financing gap of US$14 billion in donor funds identified in the Ceres 2030 report, which was sponsored by the Food and Agriculture Organization (FAO) and the International Fund for Agricultural Development (IFAD). To reach the USD$14 billion, the private sector needs to participate. Currently, many private investors fear the risks that come along with investing in developing countries and food systems. Therefore, if donors can engage in private finance, it is more likely that private investors will take a responsible approach to investing. The combination of these two sectors, public and private, create blended finance, which can lead to answer the Ceres 2030 demand.
The Shamba Centre will speak to members of the GDPRD on how their programmatic work includes engagement with the private sector, how it addresses market failures, how they select grantees that are innovating and how they ensure the 'additionality' of their funding. The opportunity cost of funding decisions is paramount, given that donor funds are a precious commodity which face increasing and competing priorities. Money spent on one priority means less funds are available for others.
Donors will not be our only focus. We also seek engagement with:
Development finance institutions on the cusp of 'greener' reforms.
International public funds that are at the forefront of innovation.
Blended and private funds on how they are addressing climate, nature, and water risks, alongside operational and revenue risks of new designs and technologies in developing countries.
Will we discover something new?
Since this stakeholder consultation on sustainable finance will include options on blended finance, which is not traditionally considered in conversations related to food systems, will it bring something new? Will this finance be innovative? On this, we will not speculate.
In finance, innovation is considered to be risky. No one wants to be the first to fund a new technology or push the first rounds of investment in poor countries. All funders, concessional and commercial, want standardized design models that can be replicated quickly and cheaply. Funders prefer to be in the middle using safe, tested models that are usually more lucrative than innovative ones.
The economic realities and nascent capital markets in middle- and lower-income countries make these expectations for safe and standardized investment models difficult to meet. Climate change, water scarcity and nature loss increase risks. Opinion leaders suggest biotech, infotech and AI will bring solutions, and indeed they will. But we still need to shore up the fundamentals: Like all systems, our planet has boundaries.
The Members of the Global Donor Platform for Rural Development stand ready to lead on this huge opportunity. With over 800 million people facing acute hunger, there is no time to lose.
Read more about the GDPRD workstream on innovative finance.
Contact us with your ideas and views.  Click here for the full blog on the Shamba Centre website.
Written by Oshani Perera, The Shamba Centre for Food & Climate. This article was originally published by GDPRD.