YouTube influencer and philanthropist Lilly Singh and Mastercard's Shamina Singh took the stage in a packed room in Washington, D.C., to share how we can all encourage greater gender equity.

Photo: Mastercard Foundation
"We can't change the issue of gender equality with just money … it's culture," Lilly Singh said. "Culture determines how we treat women, how we view women. What is the patriarchy if not just a story that's been told for a really long time? I believe if you change the stories, you can change the world. We can change culture."
The topic was just one of many big, thorny issues discussed Thursday at the Global Inclusive Growth Summit, which brought together private-sector and social-sector leaders, government officials, economists, and academics to spark conversation and drive change on the environment, digital inclusion and much more.
A core sentiment of the daylong event, hosted by the Mastercard Center for Inclusive Growth and the Aspen Institute, was that of urgency: There's no more time left to kick the can down the road on climate — we need to address it now. The same with gender equality and financial inclusion.
And if we all manage to drive greater inclusion, many of the speakers said, we could unlock far greater economic prosperity for everyone and build significantly more resilience in communities so they can withstand future challenges.
Here are three takeaways from the event.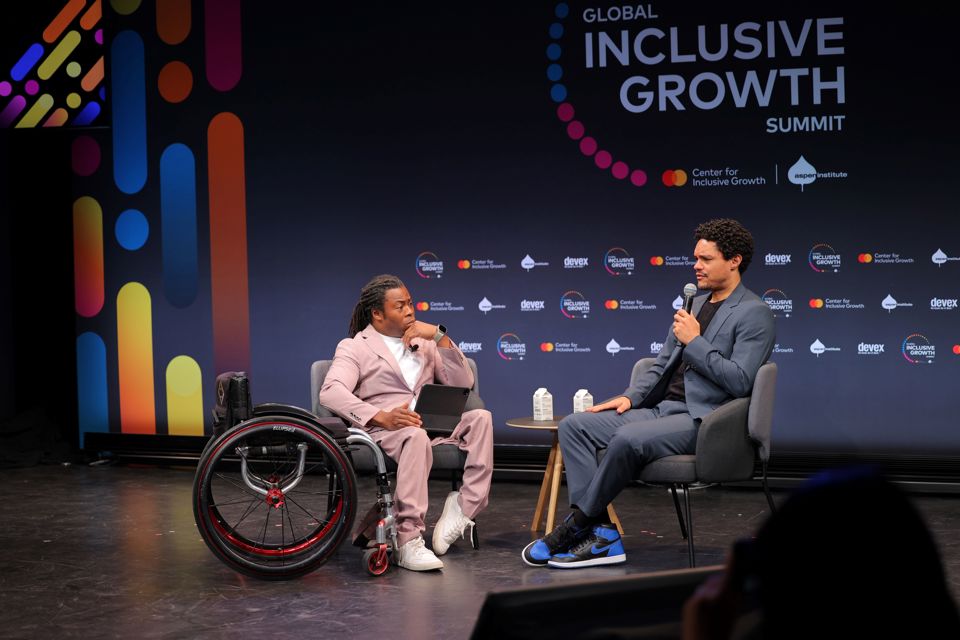 Photo: Mastercard Foundation

1. There's no one way to define financial inclusion and inclusive growth:  Financial inclusion is, quite simply, the work of bringing more people into the formal financial system, whether that's giving people access to a bank account, insurance, working capital for their business or the ability to safely send money to family overseas. Inclusive growth, meanwhile, is all about encouraging economic growth that more people can benefit from, not just those at the top of the ladder.
Many speakers at the event shared their takes on both ideas.
Comedian and author Trevor Noah challenged the notion that inclusive growth and financial inclusion are primarily about charity. He said that people being left out of markets is a failing of those markets. When more people are included, that's not inclusive growth, but really "complete growth," he said.
Building on that idea, Washington, D.C., Mayor Muriel Bowser said during a separate presentation that her administration sees inclusive growth as a balance.
"Yes, we want to grow our population. Yes, we want more businesses. Yes, we want more development," she said. "Well, we want the people who have lived here in good times and bad times to be able to afford to live. So what that has meant for us is: How do we grow wages? And how do we build more affordable housing?"
In a speech capping the event, Queen Máxima of the Netherlands said a focus on fostering financial health — encouraging people to save money and avoid excessive debt — was essential to true financial inclusion. "Without financial health we will not be able to do it."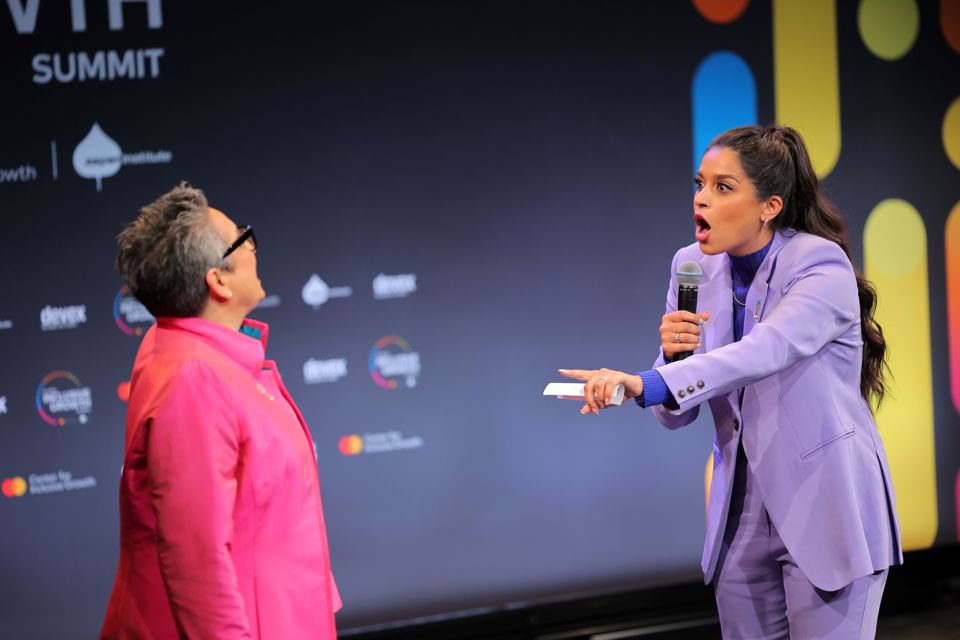 Photo: Mastercard Foundation

2. Technology directed in the right way can have a big impact on inclusion: A number of speakers mentioned the potentially negative impacts of artificial intelligence, noting the rapid developments of generative AI models like ChatGPT.
But Microsoft Vice Chairman Brad Smith, whose company has invested in OpenAI, the developer of ChatGPT, and provides ChatGPT in its products, shared a much more optimistic view of how AI could be used. He said it could unlock huge benefits for nonprofits, allowing them to deliver programs and measure their impacts much more effectively and at a much lower cost.
During another presentation, Mastercard CEO Michael Miebach said companies need to consider three factors when developing new technology: Does it solve a problem for people? Is it inclusive? Is it trustworthy?
"If it's not inclusive, it doesn't scale. If it doesn't scale, it doesn't matter," he added.
Samantha Power, administrator of the U.S. Agency for International Development, shared how the Ukrainian government created an app that's grown to include more than 200 government services. That app, called Diia, helped cut down on corruption by increasing government transparency and enabled people to let the government know if they've been displaced during the war.
Potential legislation is shared on the platform, and citizens can share positive or negative sentiments with their leaders — not wait for an election to hold them accountable. "It's the digital and democracy coming together," she said.

3. Find ways to make the world work for more people: BBC journalist and Paralympian Ade Adepitan, who uses a wheelchair, asked the audience, somewhat jokingly, "What's this fixation you able-bodied people have with stairs!"
The idea of adding more ramps and other means of access helps not just people like him, but many others, as well.
Chetna Sinha, founder of the Mann Deshi Foundation, which helps women in rural India access credit and build up their business skills, said that as the pandemic eased she worked with many women who had to start making money after their spouses lost their jobs.
They asked to be armed with smartphones, not feature phones, saying they had better services, especially voice SMS, which could matter because many of them didn't read or write.
"They said, 'Never give poor solutions to poor people. We are smart.'"
Philanthropist Melinda French Gates reinforced the point about empowering women.
"Make sure they have a great education. Make sure they can plan and space the first of their children. Make sure they have networks to get into a great job and be part of the banking system to save money," she told the audience. "You will absolutely accelerate their growth. And guess what? They're going to accelerate your economy."